Retrouvaille™
... a lifeline for Marriages
A program to Help Couples Heal and Renew their Marriages.
Do you feel lost, alone or bored in your marriage?

Are you frustrated, hurt or angry with your spouse?
Are you constantly fighting? Or, do you simply shut down?
Have you thought about separation or divorce?
Does talking about it only make it worse??
... Retrouvaille provides marriage help!
Retrouvaille Program
The Weekend
Post Sessions
CORE
What is a Retrouvaille Program?
The word Retrouvaille™ (pronounced re-tro-vi with a long i.) is a French word meaning rediscovery. The program offers tools needed to rediscover a loving marriage relationship. Thousands of couples headed for cold, unloving relationships or divorce have successfully overcome their marriage problems by attending the program.
The Retrouvaille Program consists of a weekend experience followed by 6 three hour post-sessions held on the 6 saturdays after the weekend. It provides the tools to help get your marriage in order again. The main emphasis of the program is on communication in marriage between husband and wife. It will give you the opportunity to rediscover each other and examine your lives together in a new and positive way.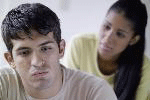 What Happens During a Retrouvaille Weekend?
During the weekend phase, a team of three couples and a priest or three couples and a Christian minister & spouse give a series of presentations. The weekend is not a spiritual retreat, not a marriage encounter or marriage seminar although it does have characteristics of each of these and much more. You will, however, be encouraged to put the past behind you and start rediscovering each other.
The team presents a technique of communication that enables you to take a good look at most areas of your relationship. The team does not provide marriage advice. The team provides practical tools for improving your marriage. They will share how they were able to benefit from these techniques themselves. After each presentation you will have a chance to reflect on it by yourself, then discuss it in complete privacy with your spouse.
What are The Post Weekend Sessions?
The weekend is not a 'miracle cure'; therefore, the post-weekend sessions have been designed to continue the marriage renewal begun on the weekend. The post-weekend phase is as crucial, maybe more critical, to the healing of marriage problems. During the post-weekend sessions, the technique learned on the weekend is further developed and is used to explore additional areas of the marriage relationship.
What is CORE ?
The final phase of the program is called CORE, or Continuing Our Retrouvaille Experience. This is an ongoing support group for couples in the program. Couples continue to help and support each other, since the healing process usually takes a lot longer than just the initial weekend and follow-up period. Couples dedicated to the enrichment of their marriage meet a regular basis for continued support and fellowship.